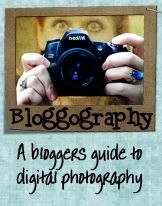 I was complaining to a friend that I can't find a beginners photography class. I really would like to learn how to use my wonderful camera that my wonderful husband gave me for Christmas on something other than automatic. Don't get me wrong...I love the automatic mode but why have the SLR capability if I am never using it? So I've been searching high and low for a class. For some reason there's a dearth of beginners classes in this area. Apparently everyone else who owns a digital SLR camera has no need of a class. So this brings me to me, and my complaining that I can find no one who will teach me to use all those mysterious spots on the dial of my camera and what iso and fstop all mean. After listening to me whine, my friend gave me the link to a blog that is having weekly photography challenges that get people to play around with their camera's capabilities and offer a little lesson in what the letters and numbers all mean. So I came into the challenge a couple weeks late. But I decided I just needed to jump in and get my feet wet.
This weeks challenge is to vary the shutter speed of the camera and get an action shot. I had some fun with this. My girls LOVE to have "shows" and they offered the perfect opportunity to get some action shots.
This first one was shot with an fstop 7, iso 1600 and shutter speed 1/50
The lighting and focus leave a lot to be desired but you do get the sense of motion with her hair spinning out and her skirt twirling.
This picture makes me laugh because Teresa was laughing so hard she had a hard time twirling without falling over. But it doesn't seem to capture the motion the way the one above does even though her skirt is twirling beautifully. It is in much better focus though.
iso 1600, fstop 7 and shutter speed 1/60
I like this picture too. I know there's alot that could be much better about it but you can clearly tell she's moving and the lighting is better. She was doing cartwheels for her large audience of dolls.
iso 1600, fstop 8 and shutter speed 1/60
This is my favorite of the dozens I took. The focus is the best and I love the way her hair and skirt are swirling out. The position of her arms and the expression on her face seal the deal for me. I think the lighting is better is this photo too.
iso 1600, fstop 5 and shutter speed 1/500
I will keep practicing and trying to work out how to make the light work for me. Even if these challenges give me just a wee bit more understanding of how to take better photos, I'm ahead of where I was. And me and my pictures will be all the better for it.
Take a look at the other participants challenge photos. Just looking at other's photos helps me improve my own and certainly pushes me to think more creatively about my photography too. You can link to them through
Maniac Mother'
s and
Better in Bulk
's blogs.