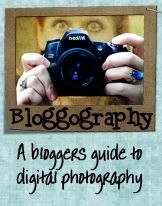 This weeks bloggography challenge was to use the lenses we have and make the most of them. I have the standard 18-55mm lens that came with my camera as well as a 75-300mm telephoto. I rarely use the telephoto so I broke it out to see what kind of photos I could get with it. Let me tell you, it's not like using my regular lens. I was often too close to subjects or just felt like the images I captured were flat. We have a couple swans in our pond at the moment and we walked over to see if I could get some good photos with the telephoto, but again none were all that good. Today we all went into a nearby town right on the water. There's a delightful little park near the waterfront the kids and I like to play in. Some bachelor Mallards were paddling about in the little river that runs through the park and this little fellow obligingly posed for a few photos. I was very pleased I finally got something. I still need to learn more about what this lens can do but am not as intimidated by it anymore.
I simply ADORE the curly little tail feathers!
Don't forget to hop over to
Manic Mother
's and
Better in Bulk'
s blogs to check out the other photos entered in the challenge.